EMERGENCY CLEAN-UP KIT
FACT SHEET
Use this kit for: blood borne pathogens clean up kit, vomit clean up kit, blood clean up kit.

---

A COMPLETE CLEAN-UP AND DEODORANT KIT
This Blood borne pathogens clean up kit is simple to us, Open storage bag, put on gloves, open clean up wipes
and personal clean up wipe, then open and sprinkle absorbent powder on waste area, let it absorb moisture then work with spatulas to lift up
absorbed waste, put into black bags then wipe area with disinfectant wipers put these into black bags and seal with twist tie. Place the black bags inside the
red waste bags and take off your gloves put them inside red bag wipe your hands with the personal wiper and place it into the red bag twist tie red bag.
QUICK EFFECTIVE
CONVENIENT NON-BLEACHING
HOSPITAL GRADE SAFE
PROVIDES SANITARY CLEAN-UP OF POTENTIALLY INFECTIOUS BLOOD AND BODY FLUIDS SPILLS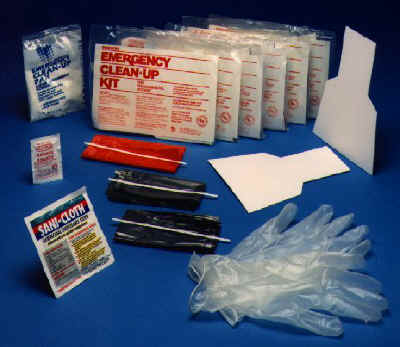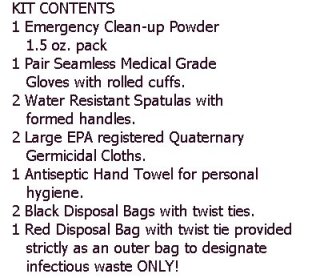 FOR USE IN:
PUBLIC FACILITIES TRANSPORTATION MEDICAL CHILD CARE
Schools Airplanes Ambulances Day Care Centers
Hotels/Motels School Buses Home Care Nursery Schools
Restaurants/Bars Automobiles Cancer Care Kindergartens
Police/Fire Depts. Cruise Ships Veterinary Camps
Churches Tour Buses Nursing Homes
Correctional Institutions Taxis
PACKAGING:

Price each $10.25
· Each kit is individually packaged for single use · Six kits are packaged to a box for multiple use
· Each box contains two sets of velcro strips for convenient wall mounting
· Eight six pack boxes (48 kits) per case
FOR ENVIRONMENTAL HYGIENE
---
LYN DISTRIBUTING
965 NO. REDWOOD ROAD NO. SALT LAKE, UTAH
PHONE 801-295-5022 OUT SIDE SALT LAKE AREA 1-800-366-5022