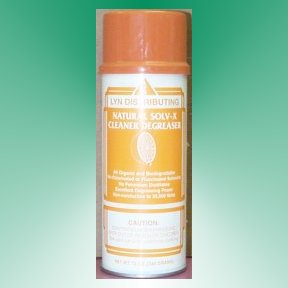 Natural citrus cleaner degreaser, tar remover.
Use for many things, tar remover off side of auto or out of carpet in side auto or home. Clean grease off garage floors, auto engines, boat engines. Use to take adhesives off hands, or equipment. Gum Remover, Citrus tar remover or citrus degreaser removes tar and asphalt off autos and asphalt equipment.
Natural citrus based degreaser, spot remover, tar and adhesive remover. Water rinse able when used.
USE ON: AUTO ENGINES, GARBAGE CANS AND TRUCKS, DUMPSTERS, CONCRETE, MASONRY, ROAD, FARM AND CONSTRUCTION EQUIPMENT, FUEL OIL EQUIPMENT, MACHINERY, AND ETC.
CARS · LAWN EQUIPMENT · GUTTERS · AIR CONDITIONING COILS · FARM and ROAD EQUIPMENT · TANKS · PIPING · DUCTS · TRUCKS · TRAILERS · SIGNS · FANS · BOATS · DOCKS · OIL RIGS · DAIRY EQUIPMENT
Environmentally preferable: This pleasant smelling formula contains no toxic petroleum distillates, chlorinated

hydrocarbons,

ozone depleting compounds, alcohol, ethylene series glycol ethers, caustics, or acids. Contains

biodegradable surfactants.

Price $89.00 each case, discounts for 5 or more cases, greater for 10 or more cases. 12 cans per case

This product will remove most resins, adhesives, printing inks, decals, dirt, soil, and most petroleum based substances such as tar, asphalt, grease, oil, and even rubber tire marks. This organic extract based product has an extremely powerful and pleasant natural citrus fragrance to deodorize effectively even under the most extreme conditions.