Painless
Stainless Steel
Cleaner
• Cleans Deposits, Polishes Metal, and Protects Surface
• Use Also on Chrome, Formica, Copper, Aluminum, Brass, Steel and More
• Contains No Chlorinated Solvents or Ozone Depleters
• Nongreasy, Water Based Formula
• Pleasant Lemon Fragrance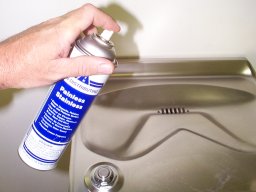 Applications for this product include restaurants, hotels, motels, industrial plants, dairies, cafeterias, office buildings, elevators, hospitals, nursing homes, department stores, grocery stores, schools and other institutions.
This product is a water-based formula used for cleaning and polishing stainless steel, chrome, formica, copper, aluminum, brass, and other hard surfaces. It is a water-in-oil emulsion, where the oil surrounds the water and contacts the surface to be cleaned first. This allows the product to act like a solvent (oil based) system while not having it's oiliness or flammability. This product is ideally suited for use in food preparation areas, where the odor of mineral spirits and aromatic solvents would be objectionable. This pleasantly fragranced product cuts through grease and oil while leaving a protective shine.
Shake well before using. Spray sparingly over surface. Wipe clean with a dry cloth, turning often. For heavy deposits, allow foam to remain up to a minute before wiping. Polish to a high shine with a different CLEAN dry cloth.
Purchase on line here. Price for each. $3.94

Discounts for 6 larger for 12 and more.