Clear Invisible, Anti-Fog, Anti-Static Cleaner & Coating.
Repels Dirt, Dust, Finger Smudges, Chemicals, Scratching.
Contains No Abrasives, Waxes or Acids.
Increases Illumination
Reduces Wear and Scratching
Military tested Safe On Plexiglass, Acrylics, Lexan, Polycarbonate
Also Used on Glass, Chrome, Stainless Steel, Formica, Fiberglass and Marble.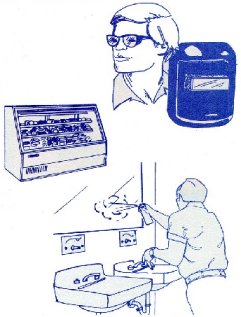 Use On - Illuminators, Display Cases, Mirrors, Spectator Shields, Goggles, Sneeze Shields, Face Masks, Teller Windows, Refrigerated Displays, Public Transit, Waiting Enclosures, Showroom Automobiles. This aerosol anti-fog spray works on all kinds of clear surfaces.
Odor- Odorless
Color - White Foam
Flammability - Non Flammable
Price $2.95 each dicounts for 12 or more