Citrus Foaming
All Purpose Cleaner
Spray On -Wipe Off
Clean Doors, Walls, Telephones, Light Switch Covers, Desk Tops, Arm Rest in Automobiles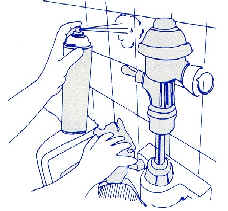 This product is an aerosol version thatís close to our Natural Solv-x product and is an excellent emulsified solvent. This high foaming, nonflammable, all-purpose cleaner is especially formulated with ingredients that allow it to remain on vertical surfaces and remove dirt, smudges, grease and fingerprints. This special formulation does not contain any chlorinated solvents or petroleum distillates. Powerful natural degreasers and deodorizers are combined to provide quick and effective cleaning on most surfaces and soils. Use to clean and degrease doors, walls, ceramic and plastic tile, floors, bathroom fixtures, and more. 20 ounce can.

This all organic, biodegradable solvent based all purpose cleaner will find a home in virtually all businesses and industrial industries. To name a few would be; banks, business offices, service stations, restaurants, hotels, motels, schools, institutions, printers, spas, health clubs, nursing homes, contract cleaners, factories and office buildings to name a few.
Directions: For heavily soiled areas, spray surface to be cleaned from a distance of 6 to 8 inches allow to stand for two to three minutes, scrub and wipe clean. Repeat if necessary. For stubborn stains, allow foam to remain longer on surface before removing.
WARNING: Eye and skin irritant. Avoid contact with skin and eyes. If eye contact occurs, flush with water for 15 minutes. If irritation persists, consult a physician. If skin contact occurs, remove contaminated clothing. Wash with soap and warm water. If irritation persists, consult a physician. Do not ingest. lf this should occur, drink large volumes of water and seek medical attention.
KEEP OUT OF REACH OF CHILDREN.