ANTI-CLOG
AIR CONDITIONING ? REFRIGERATION
DRAIN PAN MAINTENANCE PRODUCTS

CONTROL:
· SLIME BUILDUP AND CONSEQUENT DRAIN PAN OVERFLOWS
· THE GROWTH OF HARMFUL BACTERIA INCLUDING THOSE
CAUSING LEGIONNAIRE'S DISEASE
· MUSTY ODORS INTRODUCED INTO AIR HANDLING UNITS FROM
BACTERIAL SLIME ACCUMULATIONS.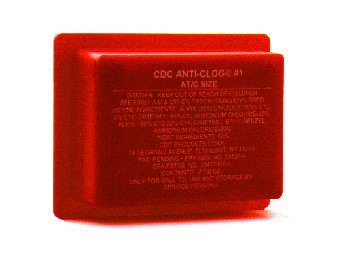 SUPERIOR CHEMICAL
FORMULATION:
50% active biocide (by weight).
Laboratory proven 99% kill of Legionnaire's Disease Bacteria (LDB).
Combats a broad spectrum of harmful bacteria including those causing the common cold and other respiratory ailments.
pH neutralizers help protect pan against corrosion.
EPA registered.
3 month service life in all climates.
FUNCTIONAL DESIGN
• Sealed, tamper proof housing prevents skin contact with biocide.
• Filter pad meters biocide for consistent chemical release.
• Water saturated filter pad prevents flotation.
• Designed NOT to clog drain hole.
• Can be placed either vertically or horizontally.
• Low profile - fits most cooling equipment.

SIMPLE INSTALLATION

Place ANTI?CLOG under cooling coils in middle of pan length. It goes to work immediately upon contact with water!

SIZE LDFT/C-10: FOR EQUIPMENT UP TO 5 TONS
SIZE LDAT/C-10: FOR EQUIPMENT BETWEEN 5-15 TONS

HERE'S WHAT THE CITY OF NEW YORK DEPARTMENT OF HEALTH
SAYS ABOUT EPA REGISTERED BIOCIDE FEEDERS

"Fan-coil units and air handlers should be equipped with an EPA registered biocide feeder or treated with an EPA registered biocide formulated for this purpose. These are designed to inhibit bacterial growth, prevent clogging of the condensate drain system and prevent odors. Such treatment is considered to be consistent with good engineering practices", (From a report issued by Commissioner R. Ferrer, M.D.)