The Howard Collection of Perforated Steel garbage cans and wood slatted trash receptacles are a durable and attractive alternative to ordinary garbage cans. These trash receptacles are recommended for indoor and outdoor use, and will compliment and accent their environment.
Howard Products
Perforated Steel & Perma-Wood™ Slat
The image below is linked to information about each product. Please click on the receptacles in the image for additional information.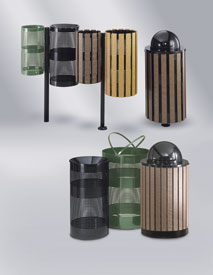 These durable outdoor receptacles come in a variety of colors and sizes, are vandal resistant and easy to maintain.
Heavy gauge, powder coated, fire-safe steel construction.
Durable and attractive Perma-WoodTM slats made from 100% post consumer recycled polyethylene are firmly secured to the black steel receptacles.
Perma-WoodTM slats have a 20 year limited warranty.
Retainer bands hold poly bags securely out of sight.
Bottom drain holes prevent the accumulation of water.
All pole / wall mount models include strapping kits to strap to poles up to 12" in diameter.
All free standing models are ADA Compliant.
All pole/wall mounted models are ADA Compliant, depending upon height placement (see placement specifications).
Home — About Us — Product Index — Contact Us
United Receptacle 2006 From Lyn Distributing
Phone: 1-800-366-5022