These open top stainless steel garbage cans have a drop in design that is great for hospitals, restrooms, and kitchens. These trash cans have a sleek clean look, and the non-magnetic garbage cans have an open top design to eliminate draft contamination.
#304 Non-magnetic Stainless Steel Open Tops
Click on products for detailed specifications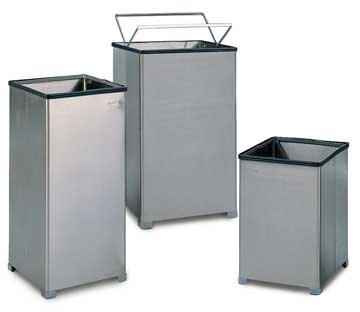 Drop-in design ideal for restrooms, clean rooms, operating rooms and
professional kitchens.
#304 non-magnetic steel construction.
Open top design eliminates draft contamination.
Folding retainer bands hold poly bags securley inside the receptacle.
Legs feature nylon buttons to protect floors.
ADA compliant.

Home — About Us — Product Index — Contact Us
United Receptacle 2006 From Lyn Distributing
Phone: 1-800-366-5022