R1012E
Smokers' Station®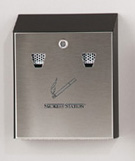 Specifications: $115.00
Dimensions: 10" W x 3" Dp x 12.5" H
Weight: 7 lbs.
Finish: Stainless steel door with Powder Coated Black Textured Body.
Carton Pack: One per carton
UPS: Can ship UPS
Manufactured with over 30% recycled steel and is 100% post consumer recyclable.
Constructed of heavy duty, fire safe galvanized steel and type 300 stainless steel.
Unique Features & Benefits:
Two disposal openings with extinguishing screen permit the insertion of extinguished cigarette butts.
Built-in anchoring system allows for permanent placement. Complete with mounting hardware.
Shipped fully assembled and ready to use.
Keyed cam lock prevents unauthorized opening.
Stainless steel door and stainless steel hinge permit easy emptying of fire safe galvanized steel liner.
Design protects contents from weather.
Optional Accessory
Home — About Us — Product Index — Contact Us
United Receptacle, Inc. @ Lyn Distributing, Inc. 2003