This is the Smokers Station, a cigarette disposal receptacle is an attractive way to store and dispose of tobacco products. This smoking receptacle comes in 2 attractive finishes, stainless steel, and textured black. This fire safe cigarette can made of galvanized steel is a safe and easy way to dispose of smoking material.

SSIG Smoker's Station®
In Ground Mounting Pole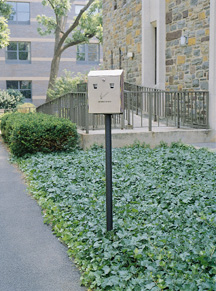 Specifications: $133.90
Dimensions: 2" Dia. x 51" H
Weight: 21 lbs
Unique Features & Benefits:
Mounting poles accomodate one or two units.
Inserting the pole 18" into the ground provides a secure stable platform.
Home — About Us — Product Index — Contact Us
United Receptacle 2006 From Lyn Distributing
Phone: 1-800-366-5022