The step master garbage cans are hands free waste receptacles that allows the disposal of trash without touching the receptacle. These trash cans are available in 2 colors, white and satin stainless steel, and the attached stainless steel opening door makes this can a self-extinguishing receptacle that also controls.
StepMaster™
Click on product for detailed specifications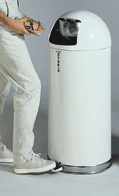 Container color: White or Mirror Chrome
Fire-safe steel construction.
Reinforced self closing, stainless steel door models control odors and meet OSHA Requirements.
UL Listed / FM Approved fire safe self-extinguishing and California State Fire Marshal Listed when used with a galvanized steel (GL) liner. (excluding StepMaster)
Available with germ fighter (PL) plastic liner or (GL) galvanized steel liner.
Holds 15 gallons of waste.
Non-corrosive stainless steel base ring to protect floors.
Recessed hand grips permit easy lift-off for emptying.
ADA Compliant.
Home — About Us — Product Index — Contact Us
United Receptacle 2006 From Lyn Distributing
Phone: 1-800-366-5022