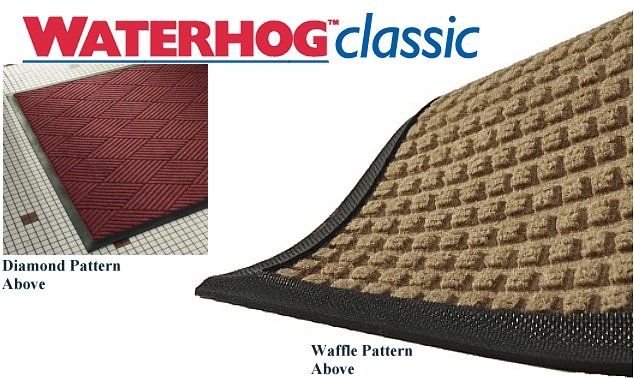 Choose Pattern when ordering entrance mat.
Waterhog classic mats are a great entry mat, small rocks and dirt stay on entry mat to protect floors.
Water and snow stay on the door mat because of the water dam around the edges of this entrance mat.
This floor mats unique ridged construction effectively removes and traps dirt and moisture. Great for inside entrance mat.

Waterhog mats exclusive rubber-reinforced face nubs prevent pile from crushing extending entrance mat life. This door mat cleans dirt and small rocks off shoes, to protect floors.

Anti-static 100% premium polypropylene. Fabric dries quickly; won't fade or rot. Can easily be vacuumed or hosed out. Great door mat.

Entrance mat is available in Flat or Gripper backing.

Exclusive "water dam" allows the Waterhog™ Classic entrance mat to hold up to 1-1/2 gallons of water per square yard; water and dirt stay in the mat. (Some styles available without dam for outside use, so water can drain easily.) Works great for entrance mat.

Entry mat cleaning is easy! Simply use vacuum and extraction cleaning methods; or hose your Waterhog Classic entrance mat off with water and hang to dry.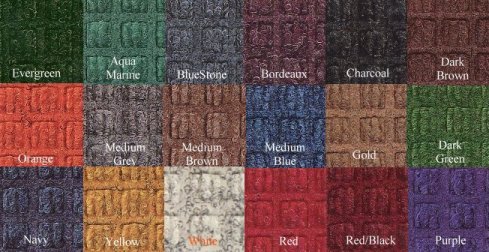 155)Red/Black door mat
153)Light Green door mat
157)Medium Grey door mat
152)Dark Brown door mat
156)Medium Blue door mat
151)Medium Brown door mat
154)Charcoal entrance mat
160)Bordeaux entrance mat
158)Bluestone entrance mat
159)Evergreen door mat
161)Navy entrance mat
162)*White entrance mat
163)*Aquamarine door mat
164)*Gold entrance mat
165)*Solid Red door mat
166)*Yellow entrance mat
167)*Orange entrance mat
168)*Purple entrance mat

* These colors are available in 3' and 4' widths only.

When you click button, it will show you the price. When purchasing buyer has to go thru all steps including the address the entrance mat will go to, before any credit card information is needed to purchase. Discount for 5 or more mats. Discounts will show when ordering mats.

18"x28" $14.05

3'x4' $47.50

3'x10' $118.71

4'x10' $ 158.25

3'x16' $ 219.11

4'x12' $219.11

4'x20' $365.20

6'x12' $328.66

2'x3' $23.80

3'x5' $59.50

4'x6' $94.95

3'x12' $ 164.33

3'x20' $ 273.90

4'x16' $292.15

6'x8' $ 219.11

6'x20' $553.75

3'x8' $109.57

4'x8' $146.10

6'x16' $438.21

Phone

800-366-5022

Fax

801-292-96

Return to Waterhog Mat Page