WaterHog Diamond Cord Entrance Mats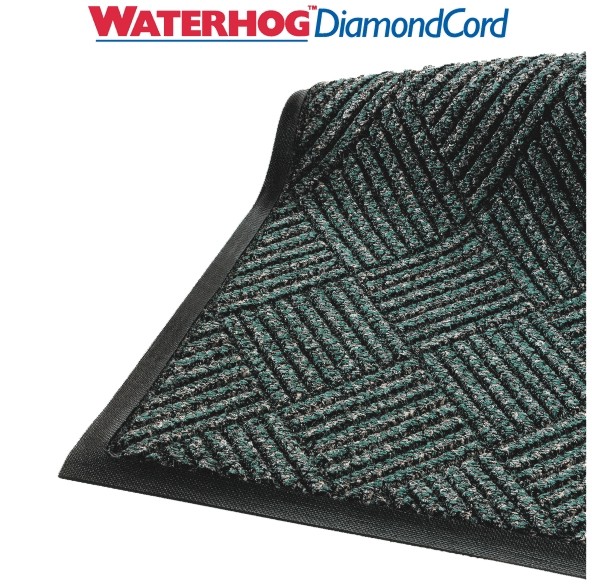 ---
Diamond Cord Mats ridged construction effectively removes and traps dirt and moisture below shoe level.

These entrance mats exclusive rubber-reinforced face nubs prevent pile from crushing, ensuring high performance and extended life.

Diamond Cord entrance mats fiber system utilizes a "fiber bundle" made up of monofilament polypropylene and 2750 denier BCF Olefin yarn that is air entangled together. This unique construction produces exceptional wiping and scraping performance on these entrance mats.

These floor mats anti-static rating averaging -0.1KV with a maximum average voltage of 0.2KV as measured by the AATCC

These entrance mats are available in Flat and Gripper backing types.

These entrance mats "water-dam" traps dirt and water so they stay on your floor mats and off your floors, minimizing slip hazards and floor damage.

These entry mats have a wide selection of 18 standard commercial sizes that makes finding the right floor mats for your needs quick and easy.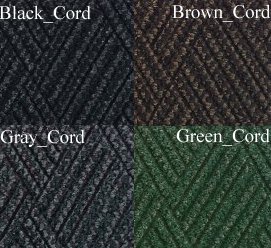 2'x3'

$30.58

3'x4'

$61.20

3'x5'

$76.45

3'x10"

$152.90

3'x12.2'

$211.95

3'x16'

$282.60

3'x20'

$353.25

4'x6'

$121.10

4'x8.4'

$188.30

4'x10'

$203.85

4'x12.2'

$265.95

4'x16'

$354.60

4'x20'

$443.20

3'x8.4'

$141.25

6'x8.4'

$296.25

6'x12.2'

$430.50

6'x16'

$548.85

6'x20'

$684.80

6'x6'

$199.45

Lyn Distributing Home
Phone 800-366-5022
CLICK THIS PURCHASE BUTTON TO ORDER