Lyn Distributing
1-800-366-5022
Your online store for entrance mats, floor mats, entry mats, door mats, waterhog mats, waterhog fashion mats,
outdoor mats, mat runners, carpet top floor runners, rubber floor runners, scraper entrance mats, and many more mats.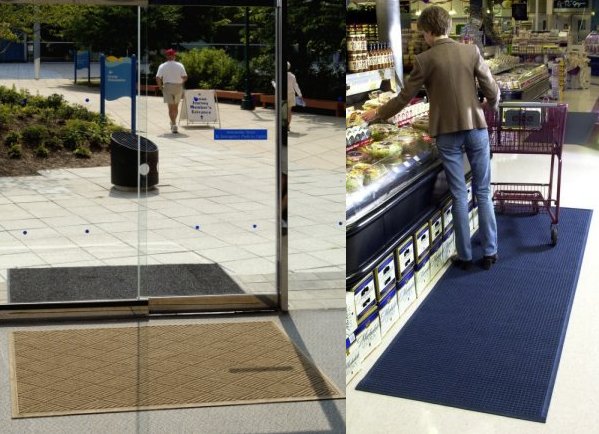 Waterhog fashion mats unique ridged construction effectively removes and traps
dirt and moisture and works great for door mats.

Waterhog fashion entrance mats have exclusive rubber-reinforced face nubs that prevent pile from
crushing, extending product life & making waterhog fashion great entry mats.

Waterhog fashion mats are constructed with anti-static 100% premium polypropylene fiber system. Fabric dries quickly;
won't fade or rot. Waterhog fashion mats can easily be vacuumed or hosed off.

Waterhog Fashion mats highly durable, attractive fabric border makes it the
perfect choice for indoor or outdoor applications.

Available in Flat or Gripper SBR rubber backing types. Fabric weighs 24 ounces per square yard.
Pile height is 1/4".

Exclusive "water dam" allows Waterhog Fashion mats to trap dirt and water so
they stay in the mat and off of your floor-minimizing slip hazards and floor
damage around the perimeter of the mat this is very particle for entrance mats.

Waterhog Fashion mats wide selection of 19 standard commercial sizes makes finding the right floor mats
for your needs quick and easy. This is another high quality Waterhog mat.
Passes flammability standards DOCFI-70. Not recommended for use in areas exposed to grease or petroleum products.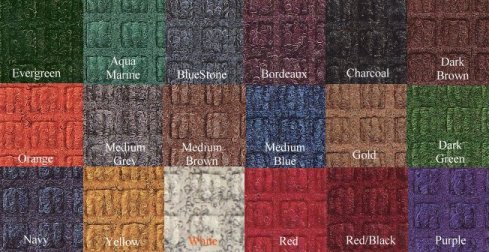 * These colors are available in 3' and 4' widths only.

Standard
Drainable Border Mats For Outside Door Mats