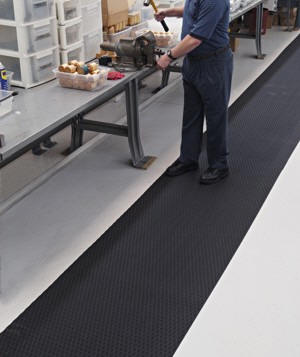 TRACTION TREAD Rubber Runners

* UV Stable 100% Nitrile Rubber-Oil & Chemical Resistant
*Slip-resistant textured surface
*1/8" Thick durable long wearing floor protection
*Available in 33", 44", and 58" widths in 100' rolls standard. Custom lengths are available in whole foot increments.
*Static Dissipative - OK in computer rooms and around static sensitive equipment.

33" wide $7.95 / linear foot
44" wide $10.60 / linear foot
58" wide $13.95 / linear foot
Purchase here in cut lengths


33"x40' $297.70
44"x40' $396.90
58"x40' $522.25
Purchase here in full rolls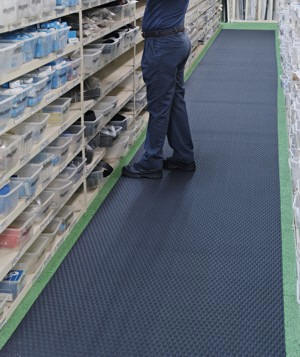 TRACTION TREAD SOFT Rubber Cushion
*100% Closed-cell, UV stable Nitrile Rubber cushion
*Oil & Chemical Resistant
*Provides anti-fatigue comfort and floor protection
*1/4" and 3/8" thicknesses in 33", 44", and 58" widths in 100' rolls standard. Custom lengths are available in whole foot increments.
*Static Dissipative - OK in computer rooms and around static sensitive equipment.
33" wide $18.45 / linear foot
44" wide $24.60 / linear foot
58" wide $30.95 / linear foot
Purchase here in cut lengths


33"x40' $690.50
44"x40' $921.40
58"x40' $1161.45
Purchase here in full rolls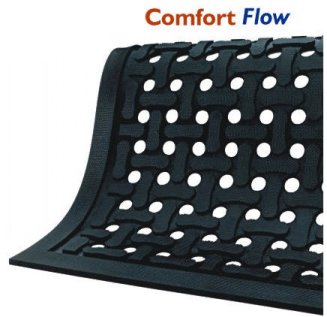 Lighter in weight for easier handling. Fully launderable mat that performs great as an anti-fatigue mat and as a flow-through mat in wet or dry environments.

Constructed of 100% high density closed cell nitrile rubber cushion which is far superior in grease and oil resistance than other "grease proof" mats.

Provides excellent anti-fatigue properties for added employee comfort and improved ergonomics, improving employee morale and productivity.

Meets all standards set in the Americans with Disabilities Act.

Low profile, 3/8 inch thick, and slip-resistant surface reduces slip and fall accidents. Non-skid backing keeps mat in place.

Anti-microbial Treated - The anti-microbial treatment guards against degradation from micro-organisms and minimizes mats being a source of odors.

Comfort Flow mats are idea for:
*Kitchens *Behind Bars *Food Processing Areas
*Work Stations *Heavy Industrial Anti-Fatigue
*Machine Shops *Walk-In Freezers