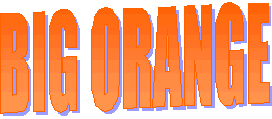 Big Orange Powdered Floor Cleaner
For super tough industrial jobs, Big Orange powdered floor cleaner is the answer! Deep cleaning butyl solvents back up the 100% biodegradable detergents to give this powder positive action in hot, cold, hard or soft water. Big Orange powdered floor soap contains a special blend of surfactants for that extra deep clean. Big Orange contains no caustics and produces no noxious fumes, but it penetrates dirt, grease and grime other cleaners leave behind. Big Orange powdered floor cleaner contains special anti-redepositing agents to lift grime and make sure that it will rinse away without leaving a film.
DIRECTIONS: Simply sprinkle BIG ORANGE powdered concrete cleaner generously on wetted surfaces, allow to soak then scrub with a deck brush or a stiff broom. The orange color will change to yellow green to show that it is digging deep to lift out the dirt, oil, grease and grime. Hose off and the floor looks like new. It really works. Your eyes will see the proof! Use Big Orange powdered concrete cleaner on shop floors, parking lots, driveways and fuel islands. This product works well on asphalt or concrete surfaces. This product is biodegradable. Because of environmental problems with anti-freeze yellow green color this product is also available in white powdered form.
click on desired link orange powder SDS SHEET
White Powder SDS Sheet
45 lb. Box

45 lb. Pail

110 lb. Fiber Drum or Keg

500 pound drum call for current price

ORANGE POWDERED PRODUCT # U1001
WHITE POWDERED PRODUCT # U1001W
Back to Lyn DistributingMain Page LYN DISTRIBUTING PHONE 1-800-366-5022