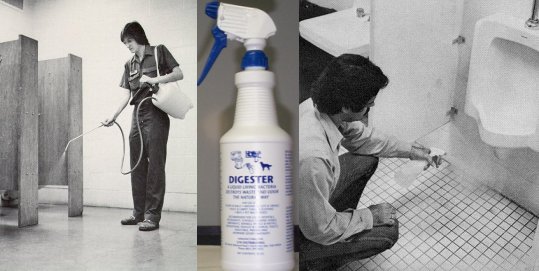 Digester
Bacterial Digestant, Deodorant, & Odor Remover
Works Great For Pet Odors on Carpets
& Other Floors
ELIMINATES ODORS, REFRESHENS THE AIR, AND HELPS KEEP DRAINS RUNNING CLOG FREE. REMOVES ODORS FROM CARPETS & HARD FLOORS CAUSED BY CAT URINE, DOG URINE OR HUMAN URINE!
SAFE/ NON TOXIC/ BIODEGRADABLE!
DIGEST GREASE, ORGANIC WASTES, AND URIC ACIDS NATURALLY.
Digester consumes organic (human or pet urine or feces) matter to eliminate odors at their source on most kitchen and bathroom surfaces, toilets, urinals, rugs and carpets! Remember digesters work well, but slowly! Digester is a
living bacteria.
DIGESTER brings "natural cleaning" indoors for a fresher, cleaner environment. How it works: Digester removes cat & dog urine by enzyme action. For cat urine removal spray area until wet let stand until dry, do not vacuum out of carpet. For urine removal around toilets and urinals spray on floor leave their until dry. These enzymes start immediately and work until urine is gone. This product is neutral and leaves a pleasant fragrance when used. Works well in trash dumpster for odor remover, just spray and leave there tell dry.

FOR USE ON:

FLOORS AND WALLS, AROUND

TOILETS AND URINALS, ON RUGS AND CARPET STAINS, AND IN DRAINS FOR GREASE & FOOD DIGESTION. RECOMMENDED FOR USE BY HOSPITALS, PERSONAL HOMES, RESTAURANTS, SCHOOLS, NURSING HOMES, APARTMENTS, KENNELS, HOTELS, INDUSTRIES, PRISONS

, PARKS DEPARTMENTS, BARS, INDOOR AND OUTDOOR RESTROOMS, ANYWHERE ANNOYING ODORS ORIGINATE!
Purchase on line here Quarts

Click here for MSDS Sheet Product Tech Sheet
Purchase Gallons or larger containers here

www.LYNDIST.com Home Page
Tips On Removing Cat Urine From Carpet From PetEducation.com
Tips For Removing Cat Odors From The University of Minnesota