EAGLE Model 1947/4510 safety storage cabinets
These flammable storage cabinets are constructed of 18-gauge steel, sides, top, bottom, and doors are double-walled with a 1 1/2" air space between walls. Both vents, with 2" threaded fittings, have fire baffle and cap. Flammable storage cabinets come in yellow high gloss powder finish with red warning, plus grounding attachment, 3-point key lock, and 2" raised, leak proof door sill. Each shelf is adjustable, supported by 4 brackets, and can support 350 pounds. Available in two door manual (Model 1947) and self closing (Model 4510) models. FM approved.
SPECIFICATIONS:
CAPACITY: 45 gallons
SHELF DEPTH: 14.75"
SHELVES: 2
DIMENSIONS: 43" wide x 18" deep x 65" high
WEIGHT: 342 lbs. Color: Yellow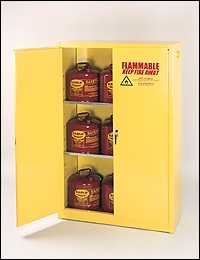 Model 1947 Yellow safety storage cabinets, Pictured Above.
Model 4510 Yellow safety storage cabinets have 2 self closing doors.