AGLE Model 1992/9010 Safety Cabinet
Constructed of 18-gauge steel, sides, top, bottom, and doors are double-walled with a 1 1/2" air space between walls. Both vents, with 2" threaded fittings, have fire baffle and cap. Cabinets come in yellow high gloss powder finish with red warning, plus grounding attachment, 3-point key lock, and 2" raised, leak-proof door sill. Each shelf is adjustable, supported by 4 brackets, and can support 350 pounds. Available in two door manual (Model 1992) and self closing (Model 9010) models.
SPECIFICATIONS:
CAPACITY: 90 gallons
SHELF DEPTH: 29.5"
SHELVES: 2
DIMENSIONS: 43" wide x 34" deep x 65" high
WEIGHT: 485 lbs.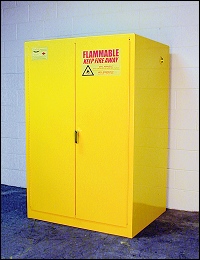 Model 1992 Safety Cabinet shown above with 2 manual close doors.
Model 9010 Safety Cabinet shown above with 2 self closing doors.