A liquid deodorant and odor counteractant that eliminates the source of malodors. A water soluble formulation containing ingredients that produce a pleasant, fresh scent, and eliminate the source of the odor. Qualifies as an odor control for broad spectrum deodorizing of many surfaces and areas.
Works fast, instantly soluble. Gets to the root of odor problems.
Treats most of the common odor sources. May be directly added to cleaning, rinsing solutions or sprayed directly onto the source. Concentrated for economy and ease of use. A small amount goes a long way toward maintaining an odor free atmosphere that all will appreciate.
INDUSTRIAL STRENGTH DEODORANT CONCENTRATE
Attacks the source of odor and neutralizes it instantly. · Effectively and rapidly counteracts and conceals smoke, contaminated food, medicinal, liquor, and musty odors in public areas. · Non-staining when used to deodorize carpeting and upholstery. · Penetrates hard to reach areas. · Eliminates malodors in restrooms, waste disposals, meeting rooms, aircraft, buses, and trains.
APPLICATION:
Dilute with hot or cold water to recommended dilutions shown below. Apply by trigger spray, TRI-JET MISTER or pump-up (garden type) sprayer for fogging. For flooring around urinals, apply by sponge or mop or pump-up (garden type) sprayer.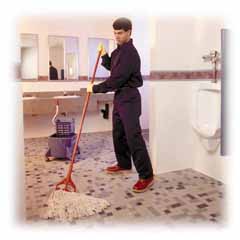 Isolated areas on carpets and furniture--

Dilute

1:

1 Treat area by injecting solution into top and back of carpet pad or upholstery padding.

General Deodorizing--

4 ounces/gallon apply in shampoo or floor cleaning operation.

Restrooms--4 to 8 ounces/gallon apply by sponge or mop around urinal.

Allow to penetrate. Pick up excess, rinse, and allow to dry.

4 ounces/gallon for fogging.
Atmosphere Control--

1 to 4 ounces/gallon. Spray to eliminate smoke, food, liquor

and other residual odors in meeting rooms or transpor­tation vehicles.

Waste Disposal Equipment--

Dilute 1: 1. Pressure or steam clean followed by deodorant treatment.
Available in Quarts, Gallons, 6 Gallon Container, 30 Gallon Drum, 55 Gallon Drum