Anti Splash Urinal Screens & Unibols Bowl Cleaner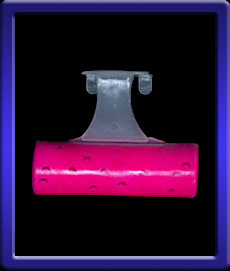 Anti Splash Urinal Screen U.S. Patent #4,096,593
Anti Splash Urinal Screens
Save time and money with a effective urinal deodorant and anti splash urinal screen with tapered fingers that minimize the impact of urine splatter. True labor saver that minimizes labor costs associated with cleaning urinals floors and surrounding area. These anti splash urinal screens are extremely flexible to fit most urinals. Anti splash urinal screens emit a fresh clean scent while releasing enzymes to eliminate odors and keep your drains free flowing. VOC compliant in all 50 states. One-piece design on these urinal deodorant and screen so no chemical block or part of block will go down drain to cause plumbing problems.
•
Unibols toilet bowl deodorant and cleaner last for an entire month and hide unobtrusively under the rim. Long lasting toilet bowl disinfectant.
•
Take your first lesson on the easiest, most effective maintenance program available today.
You'll understand why
Unibols
far outshine the competition
Eco Fresh wave urinal screens have 10x more fragrance than vinyl urinal screens. Eliminates odors, releases optimized bacteria that clean the urinal and eliminate odors. Lasts Longer Gradual fragrance release ensures 30 day performance. Saves Time and Money Revolutionary design reduces splash back while optimizing fragrance release cutting cleaning time by up to 50 percent. Translucent Design Allows full view of urinal drain to ensure optimal drain flow. Watch It Work These Eco Fresh Wave urinal screens shrinks in size as it releases beneficial bacteria odor counteractants and fragrance. Eco Fresh wave urinal screens are very flexible Conforms to the urinal to trap debris. VOC Compliant Available for sale in all 50 states. No ozone depleting ingredients. Sold 10 per pack. Price by the pack. Fragrances available: Herbal Mint translucent green color, Honeysuckle clear color, Ocean Mist translucent light blue color, Cucumber Melon translucent blue green color, Guava Pineapple translucent red orange color, Cotton Blossom translucent light blue color, Spiced Apple translucent red color, Mango translucent dark orange color, and Wintergreen translucent blue color.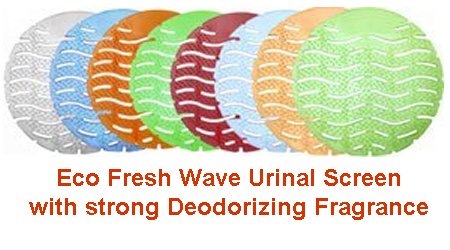 Purchase Here