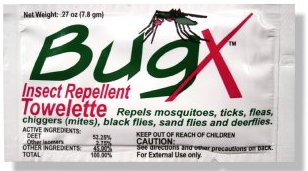 The most effective repellents contain DEET (N,N-diethyl-m-toluamide), which is an ingredient used to repel

pests like mosquitoes and ticks. DEET has been tested against a variety of biting insects and has been shown to

be very effective. The more DEET a repellent contains the longer time it can protect you from mosquito bites. A

higher percentage of DEET in a repellent does not mean that your protection is better—just that it will last longer.

Use these long lasting insect repellent wipers for 8 hours of protection.

DEET concentrations higher than 50% do not increase the length of protection.

Insect Repellant Towelettes: Packed in individual tear open packs. Towels contain 52.25% DEET for long term protection. Each Towel is 5" x 10" in size.

Item # IR11642-10 Price per 100 packs per case $61.25 per case

Item # IR11643-10 Price per 300 packs per case $176.25 per case

Safety of Deet!

Products containing DEET are very safe when

used according to the directions. Because DEET is so

widely used, a great deal of testing has been done.

When manufacturers seek registration with the U.S.

Environmental Protection Agency (EPA) for products

such as DEET, laboratory testing regarding both short-term

and long-term health effects must be carried out.

Over the long history of DEET use, very few confirmed

incidents of toxic reactions to DEET have occurred

when the product is used properly. Some non-DEET repellent products which are intended to be applied directly to skin also provide some protection from mosquito bites. However, studies have suggested that other products do not offer the same level of protection,

or that protection does not last as long as products containing DEET. A soybean-oil-based product has

been shown to provide protection for a period of time similar to a product with a low concentration of DEET (4.75%).

Based on a recent study: A product containing 23.8% DEET provided an average of 5 hours of protection

from mosquito bites. A product containing 20% DEET provided almost 4 hours of protection. A product with

6.65% DEET provided almost 2 hours of protection. Products with 4.75% DEET and 2% soybean oil were

both able to provide roughly 1 and a half hour of protection. Use insect repellent wipers or towelettes around eyes and mouth.
Bug Ban Plus Insect Repellant Spray

23.75 % DEET

PERSONAL INSECT REPELLENT

Bug Ban Plus is an EPA registered, USDA authorized personal insect repellent. This concentrated Insect Repellent Contains DEET to repel mosquitos, biting flies, chiggers, and

ticks. Unique valve system allows user to spray the product in any direction. Non-oily formula won't stain clothing. Handy 8 oz. can is easy

to carry. Remove protective cap, point spray valve in direction of arrow. Press valve button to spray.

Hold can 6 to 8 inches from skin or clothing while spraying. With slow sweeping motion,

slightly moisten surface. Saturation is not necessary. If used on face, spray on hands first and

then apply sparingly and avoid the eyes. Do not spray directly onto face. Avoid contact with

eyes or lips. Apply sparingly around ears. Do not allow children to handle this product. When

using on children, apply to your own hands, and then put it on the child. Avoid over-application

of this product.

FOR CLOTHING: Spray insect repellent on clothing where insects are biting through, such as around opening in

outer clothing. Will not damage nylon, cotton and wool. Should not be used on rayon and

dynel.

Do not spray in enclosed areas. Do not apply over cuts, wounds or irritated skin. Do not apply to eyes and mouth and do not apply to the hands of young children. Do not spray directly on

face. Use just enough repellent to cover exposed skin and/or clothing. Do not use under

clothing. Avoid overexposure. 6.5 ounces net weight per can. Mild, pleasant, light musk fragrance. Non-oily formula won't stain clothing
Bug Ban Insect Repellant Spray

14.25% DEET

PERSONAL INSECT REPELLENT

Bug Ban is an EPA registered, USDA authorized personal insect repellent. Contains DEET to repel mosquitos, biting flies, chiggers, and

ticks. Unique valve system allows user to spray the product in any direction. Non-oily formula won't stain clothing. Handy 8 oz. can is easy

to carry. Remove protective cap, point spray valve in direction of arrow. Press valve button to spray.

Hold can 6 to 8 inches from skin or clothing while spraying. With slow sweeping motion,

slightly moisten surface. Saturation is not necessary. If used on face, spray on hands first and

then apply sparingly and avoid the eyes. Do not spray directly onto face. Avoid contact with

eyes or lips. Apply sparingly around ears. Do not allow children to handle this product. When

using on children, apply to your own hands, and then put it on the child. Avoid over-application

of this product.

FOR CLOTHING: Spray clothing where insects are biting through, such as around opening in

outer clothing. Will not damage nylon, cotton and wool. Should not be used on rayon and

dynel.

Do not spray in enclosed areas. Do not apply this spray insect repellent over cuts, wounds or irritated skin. Do not apply to eyes and mouth and do not apply to the hands of young children. Do not spray directly on

face. Use just enough repellent to cover exposed skin and/or clothing. Do not use under

clothing. Avoid overexposure. 6 ounces net weight per can. ODOR: Light Musk