Pow-R-Jet Plus DM Fogger 6428
---
Controllable Drum Mounted Fogger/Mister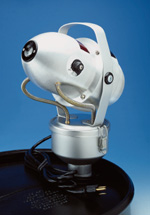 The Pow-R-Jet® Plus DM 6428 fogger is mechanically identical to the durable 6329 model, but includes a one-turn control valve to allow you to adjust liquid output (0-10 oz/min) and droplet size (intermediate fog to heavy wet fog). Higher flows produce larger droplets. Great as a insecticide fogger.
The dispensing rate can be calibrated in the field so you get predictable output for all fogging solutions, despite changes in viscosity and density. And, since the Pow-R-Jet Plus DM is a "cold" fogger, using shear turbulence, it handles both water- and oil-based liquids.
Use Fogger in barns, restaurants, greenhouses, dairies and warehouses are a few examples of larger application sites relying on this product for everyday use.
For effective fogging solutions, for insect fogging or insecticide fogging use the Pow-R-Jet fogger.


SPECIFICATIONS

Motor
1 Hp., 120VAC 50/60HZ, 7 amp. Optional: 240V, 3.5 amp
Motor saver brushes (protect commutator when worn)
Fogging Nozzle
High-shear, vortex design nozzle
Particle Size
15-30 micron VMD, adjustable
Chemicals
Water- and oil-based solutions may be used thru this fogger
Liquid Flow Rate
0-10 oz/min [0-300 ml/min], adjustable with one-turn valve
Capacity
Fogger mounts to chemical drum (not included)
Materials of
Construction
Power head, drum adapter - aluminum
Tubing - fuel and oil resistant vinyl
Fittings and control valve - brass
Nozzle - Celcon
Dimensions
H x L x Dia: 15.4 x 10.4 x 8.6 in [39 x 26 x 22 cm]
Shipping Weight
12 pounds
Warranty Period
One year
---
Always read and follow use instructions on the chemical label.
---


LYN DISTRIBUTING
Denver, Los Angles, Portland, Dallas, Phoenix, Chicago, Tampa, Baltimore, Atlanta and more.
Tel: 800/ 366-5022 Fax: 800/ 916-5031