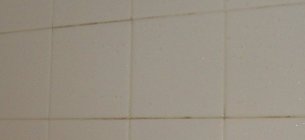 Tile above before spraying on X-It-Out
Tile below after spraying on X-It-Out and waiting 15 minutes before rinsing with clear water.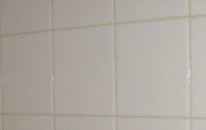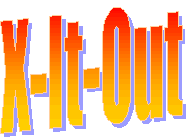 Thick Chlorinated Cleaner that works for You!
Great for vertical tile walls! Great mildew & stain remover for sinks, showers, tubs or any hard surface where mildew grows.
Because it's thick, it stays where you spray it and works for you.
This concentrated cleaning product is formulated with the grease and stain cutting power of "chlorine". Designed for use in a wide variety of applications and dilution ratios for economical and versatile performance. X-it-Out is a thick clinging liquid that stays where you spray it. Ideal for removing heavy dirt, mildew, and scum from shower room floors and walls. A special low odor formula, no high hypochlorite odor when used.
This product may be used on brick or concrete buildings to remove mildew and fungi from surfaces. Simply spray it on let it set 15 minutes to 1 hour and spray off. On large build-ups slight agitation may be required. Use on large moist wet rooms or wet area floors.
When using in showers use this product for maintance1 week then use our Steelbrite 1 week to keep showers or shower rooms hard water and mildew free.
CAUTION: Irritant. Contains sodium hypochlorite. Avoid contact with eyes, skin, mucous membranes, or clothes. Do not mix with acids or any other cleaning chemicals. In case of eye contact, flush with plenty of cool water for at least 15 minutes, and obtain medical attention. Wash hands and skin after contact. If swallowed, give one or two glasses of water and call a physician immediately.
On larger orders there are volume discounts when checking out of shopping cart.

< Quarts

< Gallons