Proportioning and Dispensing Systems From Lyn Distributing
AccuDose™ Series
AccuDose™ dispensers are an economical way to dispense a wide variety of

automatically diluted solutions into spray bottles, buckets or other containers at the touch

of a button. Dilution is controlled by drawing chemical through metering tips of varying

size and injecting this metered amount into the water flow.
Economical, linkable systems to meet customers' needs
AccuDose dispensers use durable materials and state of the art water

valve technology to provide low costs, consistent performance, and reliable

service in a wide variety of customer environments. Users will also

appreciate the ease of operation and low service requirements of the

AccuDose line.

Standard models are available with any combination of low and high

flows in one, two and three product configurations. In addition, the

linkable inlet and outlet fittings on AccuDose dispensers allow for more

than three products to be dispensed – a larger dispensing system is created

by simply joining the appropriate units together. And even after installation

of the system, it can be expanded as new product needs arise. This versatility

reduces stocking requirements while it increases the distributor's ability to

respond to customer needs. And since each standard button can be

converted to lockability in the field, customizing the standard systems to

individual needs is simpler than ever!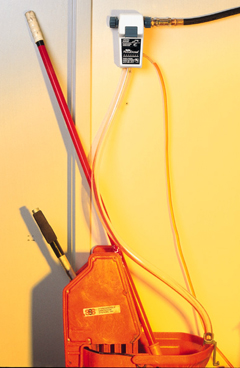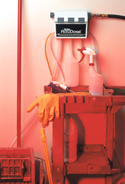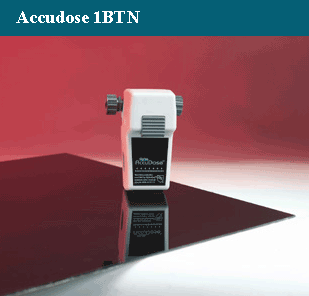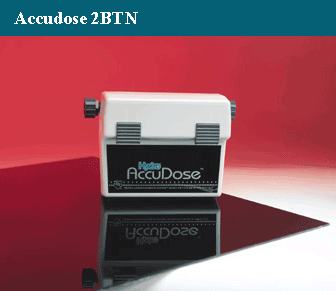 Model 3833AG-2 Model 3853AG-2 Model 3833AG-2 Model 3841AG-2
One product dispensers at

1 GPM or

3.5 GPM Water Flow into Container
To Purchase The 1 Chemical with Many Different Dilution Ratio Proportioner Click Here

| | | | |
| --- | --- | --- | --- |
| Model # | 1 GPM Water Flow | 3.5 GPM Water Flow | Dilution Max. * Min. |
| 3830AG-2 | 1 | | 128:1 3:1 |
| 3833AG-2 | | 1 | 350:1 3.5:1 |
Two product dispensers at 1 GPM or 3.5 GPM Water Flow into Container
To Purchase The 2 Chemical or 2 Different Dilution Ratio Proportioner Click Here

| | | | |
| --- | --- | --- | --- |
| Model # | 1 GPM Water Flow | 3.5 GPM Water Flow | Dilution Max. * Min. |
| 3841AG-2 | 2 | | 128:1 3:1 |
| 3844AG-2 | | 2 | 350:1 3.5:1 |
| 3846AG-2 | 1 | 1 | available with both dilution from above |
To Purchase The 3 Chemical or 3 Different Dilution Ratio Proportioner Click Here

Three product dispensers at 1 GPM or 3.5 GPM Water Flow into Container
| | | | |
| --- | --- | --- | --- |
| Model # | 1 GPM Water Flow | 3.5 GPM Water Flow | Dilution Max. * Min. |
| 3850AG-2 | 3 | | 128:1 3:1 |
| 3853AG-2 | | 3 | 350:1 3.5:1 |
| 3856AG-2 | 1 | 2 | available with both dilution from above |
| 3858AG-2 | 2 | 1 | available with both dilution from above |
Lyn Distributing Home Page Phone 1-800-366-5022