RODENT CONTROL

Black Lights For Rodent Detection # RUVA-26-10 rechargeable #RUVA-04S-10 battery
120-volt internal rechargeable lead acid battery, eliminating replacements. one full charge (24 hours) gives 5 to 7 hours of operation. This unit is equipped with built-in chargers that plug into wall outlet for intermittent or continuous recharging. 365 NM bulbs that are self-filtering type are best for detecting rodent activity or bacteria on inanimate objects.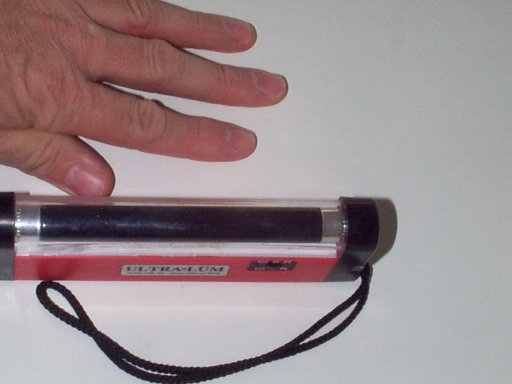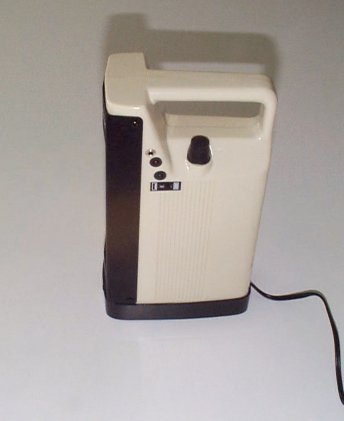 Contrac Rat Bait & Mouse Bait MSDS EPA EST. NO. 12455-WI-1 EPA Reg. No.: 12455-36
CONTRAC Rat Bait & Mouse Bait a single-feeding anticoagulant meal bait containing the active ingredient, Bromadiolone. It is an excellent clean-out and maintenance bait to control mice and rats, including warfarin-resistant Norway rats. Rodents can consume a lethal dose of CONTRAC Rat Bait or Mouse Bait in just one feeding. Bait acceptance with CONTRAC Rat Bait or Mouse Bait is excellent due to its highly palatable meal formulation. CONTRAC Rat bait or Mouse Bait is ideal to use if there is the possibility that rodents may transport bait to sensitive areas near food, children or pets. Meal baits, while the least weatherable bait form, gets superior rodent acceptance because they contain food-grade ingredients, seeds and grains which give rodents a variety of textures and flavors. Mouse bait shyness is not a problem with CONTRAC because mortality occurs a few days after bait is consumed. It is also less toxic to non-target animals, in both primary and secondary poisoning situations, than other single-feeding anticoagulants. The antidote, Vitamin K1 is readily available and there is a time factor for treatment. CONTRAC Rat Bait and Mouse Bait is available in slender pre-measured place pacs that keep bait fresh and free from dirt and contaminants. Contrac rat and mouse bait is available in 120 x 1.5 ounce place pacs and a 25 lb. bulk pail.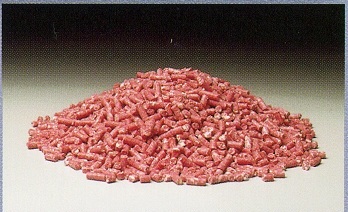 Bait Stations E.P.A. Approved as Tamper Proof
RODENT FACT SHEET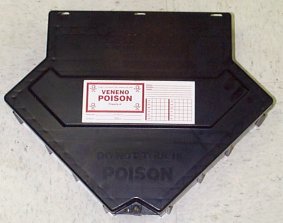 #R903TP-10 Rat Size Plastic TAMPER-RESISTANT BAIT STATION Packed 6 per case w/12 plastic insert trays. 12 Bait Holder Rods, 6 Locator Signs, 1 Hex Wrench & 6 Poison Labels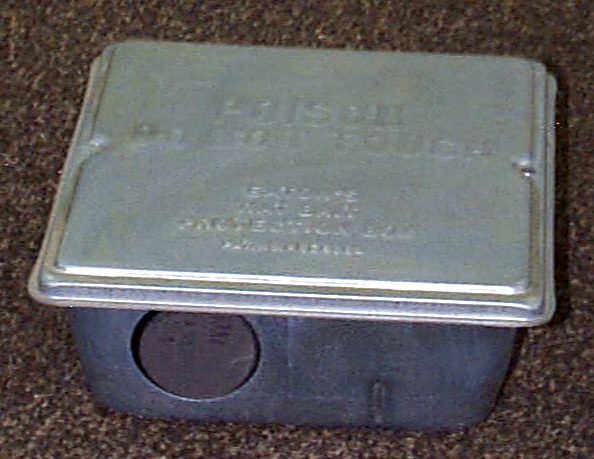 #R910TP-10 Metal Bait Station w/Plastic Insert. Pack 12 per cs w/1 Hex Wrench, 12 Bait Holder Rods, 12 Poison Labels.


Ketch-All Mouse Traps Catch up to 15 mice in 1 setting. Available with clear ends or top.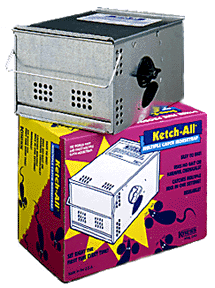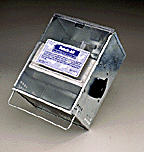 Live Animal Traps for Cats, Squirrels, Skunks, Birds, Raccoons click here
Final Rat and Mouse Bait MSDS EPA EST. NO. 12455-WI-1 EPA REG. NO.12455-90
Final Rat and Mouse Bait in pelletized form that contains Brodifacoum a new single-feeding anticoagulant rodenticide. This bait is the strongest available on the market today and causes fatal hemorrhage in rats and mice. Final is highly palatable to rats and mice, as evidenced by their ready acceptance of the bait in laboratory tests. Final Rat and Mouse Bait pellets are packaged in place pacs that rats and mice open themselves. Pellets are sometimes carried back to the nest or wherever the rodent is most comfortable feeding. The bait stays fresh and stable inside the polyglassine pouch. Place pacs are convenient and very effective for baiting in burrows, runways, and hard-to-reach areas. Final place pacs are useful in service work where bait protection and a labeled product are required. Final pellets are approved for use in USDA federally inspected food plants. Final is available in cartons of 60 x 3 oz. bait pacs and 25 lb. bulk pails.
Contrac All-Weather Blox Rodent Bait MSDS EPA EST. NO. 12455-WI-1 EPA REG. NO. 12455-34
Contrac Rodent Bait All-Weather Blox is a new extruded paraffinized rat and mouse bait for indoor and outdoor use. Ready-to-use Contrac All-Weather Blox bait pieces measure 2" x 1" but its unique multi-edged design gives rodents plenty of gnawing edges, coupled with an improved bait formula, make Contrac Blox superior to other similar baits in rodent acceptance and control. Contrac Blox kills Norway rats and house mice. All-weather bait, Contrac Blox is specially formulated to yield a highly weatherable, low wax product with the optimal blend of food-grade ingredients. Contrac Rodent Bait Blox stays fresh and palatable indoors and outdoors, in wet and dry areas. Contrac Blox contains the single-feeding anticoagulant bromadiolone, which is less toxic to non-target animals in both primary and secondary poisoning situations than other single-feeding anticoagulants. It is colored blue for easy recognition as a non-food item. Pre-measured Contrac Blox makes baiting easier and cleaner. The one-ounce bait pieces fit easily into burrows, bait stations and tight baiting places. Contrac Rodent Bait Blox are packaged in 18 lb.plastic pails. Pails protect the bait from contamination.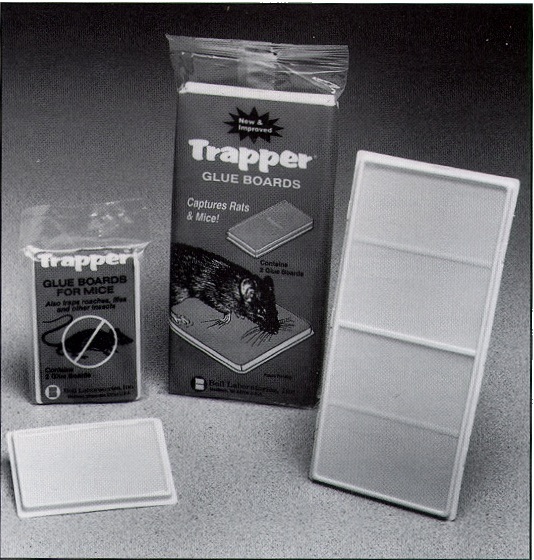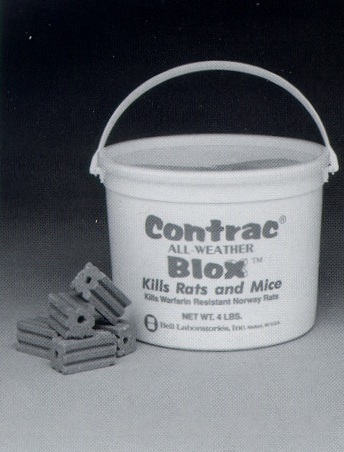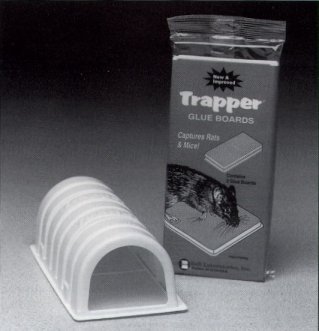 Trapper Glue Boards & Tunnels For Rats and Mice
48 Rat Size Trays per Case 48 Tunnels per case
New TRAPPER Tunnel is a plastic protective cover that fits on Bell Lab's rat-size TRAPPER Glue Boards. TRAPPER Tunnel keeps dust and debris off the board, keeping its surface tacky longer. An economical means of extending the life of TRAPPER Glue Boards, TRAPPER Tunnel is ideal for use in dusty areas, such as food processing plants and warehouses.
TRAPPER Tunnel's white color gives it a clean and sanitary look. The TRAPPER Tunnel also hides captured rodents and insects from sight. Made of sturdy, ribbed plastic, TRAPPER Tunnel has tall, inviting entrance holes that can accommodate even the largest rat. This easy accessibility makes TRAPPER Tunnel and TRAPPER Glue Boards a highly effective rodent control tool.
GLUE BOARDS CAPTURE RATS & MICE Non-toxic TRAPPER Glue Boards capture rats and mice easily and effectively. They are odorless and contain no poison, making them ideal for food plants, kitchens, hospitals, residences and zoos. TRAPPER Glue Boards possess a superior adhesive that holds in a wide range of temperatures and will not sag off the board, allowing it to be used in commercial freezers and unheated areas in the winter. A new "patent pending" design features a lower profile and tighter fit along walls where rodents travel. The smaller edge around the sturdy, plastic board prevents mice from running along the edge of the glue board and avoiding the glue. Along with a smaller edge, the new TRAPPER Glue
Boards are slightly shorter in height, yet contain the same amount of glue.
TRAPPER glue is also available in bulk form. Packaging: Bulk cartons of 48 rat-size or 4 x 1 gal. cans of bulk glue.
LYN DISTRIBUTING
INDUSTRIAL MAINTENANCE CHEMICALS & EQUIPMENT FOR INDUSTRIAL, MUNCIPAL, TRANSPORTATION, AND LODGING INDUSTRIES.
PHONE ANYWHERE IN THE U.S.A. 1-800-366-5022

Return to Lyn Distributing Main page here