Noz-L-Jet Fogger 7807
---
With Output Control for "Spot" Fogging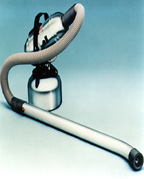 The Fogmaster 7807 Noz-L-Jet fogger features a hose and wand with discharge control. Lightweight and portable, it allows "spot" fogging without filling the room or wasting chemical. Works great as a insecticide fogger for applying insecticides to small areas. This insect fogger holds 1 gallon of insecticide or chemicals of your choice.
When you want fog, just aim the nozzle and press the thumb valve. It's spring loaded for one-handed operation, but can be latched "on" if you want continuous output. No matter what your task, the 7807 Noz-L-Jet's powerful 30 cfm blower makes it quick work.

A separate regulating valve in the power head controls droplet size in the discharge stream. Open up the valve for large mist droplets which settle quickly. Turn it down for small fog particles with longer float times and better penetration.
First developed to apply germicides to air-conditioning ducts, the 7807 Noz-L-Jet Fogger has proven useful for other "directed fog" applications including removing smoke odors from draperies and upholstery, applying anti-mildew chemicals beneath carpets, and pest control in restaurants and commercial kitchens (treating wall voids, above ceilings and under appliances without filling the room with fog).
SPECIFICATIONS FOR THE 7807 Noz-L-Jet Fogger
Motor
1 Hp., 120VAC 50/60HZ, 7 amp. Optional: 240VAC. 3.5 amp
Fogging Nozzle
High shear, counter-rotating vortex design
Range & Size
Visible fog 20-30 feet from end of wand
10-30 micron VMD (dry fog to heavy wet mist)
Liquid Flow Control
ON/OFF toggle valve on wand.
0-10 oz/min [0-300 ml/min]
One turn control valve
Tank Capacity
1 gallon [4 liters]
Materials of
Construction
Power head housing and tank - aluminum
Tubing - fuel and oil resistant vinyl
Fittings and control valve - brass
Hose & wand - vinyl and aluminum
Nozzle - Celcon
Dimensions
H x L x Dia: 15.4 x 10.4 x 8.6 in [39 x 26 x 22 cm]
Hose: 36"; Wand: 38" long curved or 16" short straight
Shipping Weight
17 pounds, in 2 cartons
Warranty Period
Five years
Purchase on line here
Price for 7807 Noz-L-Jet fogger only without hose.

Price for 36" hose with Straight 16" wand. Pick from options when purchasing
Price for 36" hose with 38" Curved Wand. Pick from options when purchasing
---
Always read and follow use instructions on the chemical label.
---
Phone 1-800-366-5022